The UPPA Student Ambassadors Program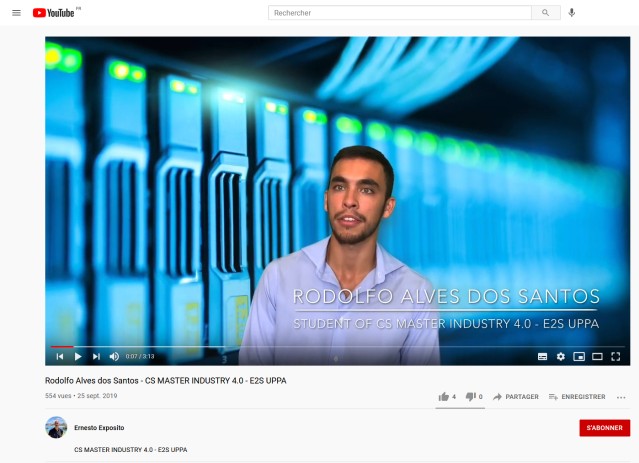 UPPA is experimenting a Student Ambassadors program designed to promote the university, to attract talents from all over the world, and to encourage the international mobility of its students.
"Hello, my name is Rodolfo Alves! I come from the Federal University of Rio de Janeiro, Brazil, I am 24 years old, and I arrived in France in 2018 to follow the Industry 4.0 Master at UPPA. I really like the campus. I discovered incredible and innovative equipment: state-of-the-art computer labs, and experimentation and interaction kits that allow us to "talk" with the computer... It was a shock to me!" Published in March 2019 on LinkedIn, Instagram and YouTube, the short video in English and Portuguese of this former UPPA student now working for the MyDataModels company, specialized in predictive analysis, quickly collected several hundreds of "likes" and "views".
To the delight of its author, of course, but also that of Ernesto Exposito, professor of Computer Science and vice president of UPPA in charge of International Relations. "Rodolfo is one of our first "Student Ambassadors" appointed in September 2019 when this pilot program was launched," he explains. Through his presence on social networks and his availability, he contributes to offering greater visibility of UPPA internationally. Thanks to him, two other Brazilian students have already applied to enroll in a Master's degree at UPPA next fall."
The other Student Ambassadors who took part in the adventure alongside Rodolfo were also from the IT department and from UPPA's partner universities: Ahmad Nasr Allah (Antonine University, Lebanon), Fadwa Mandour (Hassan II University of Casablanca, Morocco), Mamadou Lamine Gueye (Alioune Diop University of Bambey, Senegal) and Marwa Chaabane (University of Sfax, Tunisia).
Attracting the best students
Student Ambassadors are volunteers, enrolled in bachelor, master or doctoral programs. Their main task is to promote UPPA's training and doctoral programs, first and foremost at their home university. By accepting this mission, they sign a charter in which they commit themselves to record a short promotional video that will be published on the web and social networks, but also to make themselves available – as far as possible – to share their experience and accompany students wishing to come to UPPA.
"After the broadcast of my video, says Rodolfo Alves, I had to answer many questions from foreign students who wanted to know more about the course, the cost of living in France, accommodation and transport solutions, how to obtain a visa, what to do in the city..." These are very concrete questions that would probably not be asked so easily to a teacher or an administrative manager.
Promoting international mobility
Until now, the program has been open to foreign students only, but it will be expanded and strengthened next fall. "We will continue to rely on foreign students to convince graduates from partner universities of the value of continuing their studies at our university, while also motivating our own students to experience international mobility," says Ernesto Exposito. The Student Ambassador status will be extended to UPPA students returning from a stay abroad, willing to share their experience with their peers in France.
This is a two-way strategy that will encourage both foreign students to come and study with us and UPPA students to project themselves internationally. To this end, the university plans to recruit a pair of ambassadors in each of its 15 international master's programs. "Students express themselves with their words, their doubts, their joys and their experiences. Their comments are precious and reassuring for all those who hesitate to leave their country to study abroad. The Student Ambassadors program makes mobility more human," enthuses Ernesto Exposito.
Contact : Ernesto Exposito