2022-2023 "Talents' Academy" Booklet of Resumes is Out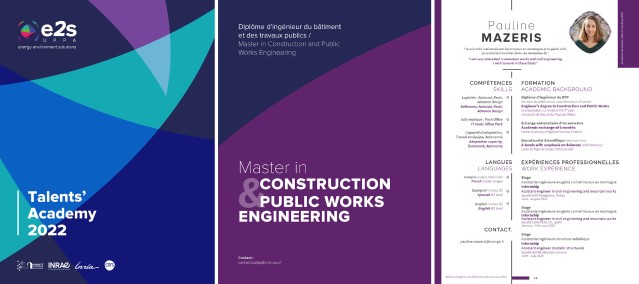 The Talents' Academy is dedicated to attracting and retaining the most promising students, who receive an allowance enabling them to devote themselves entirely to their studies. Selection is based solely on excellence. Each year, the university puts together a "portfolio" of the laureates' resumes, sorted by course of study.
With the launch of our GREEN Research Graduate School last fall, 2022-2023 is a year of transition. 12 laureates of the Talents' Academy have been recruited for this graduate school on the recommendation of the program managers. GREEN provides continuity between the Master's degree and the doctorate, enabling us to recruit promising students as early as possible and offer them a five-year perspective by committing to them, as most international research universities do.
23 laureates complete this new class. Most of them are 2nd-year Master's students, and most of them benefited from the stipend last year. In view of their excellent results, the jury has decided to honor them once again by renewing its support.
Download 2022-2023 Booklet (2MB PDF)
---
---